Prerelease Assault of the Saiyans
Prerelease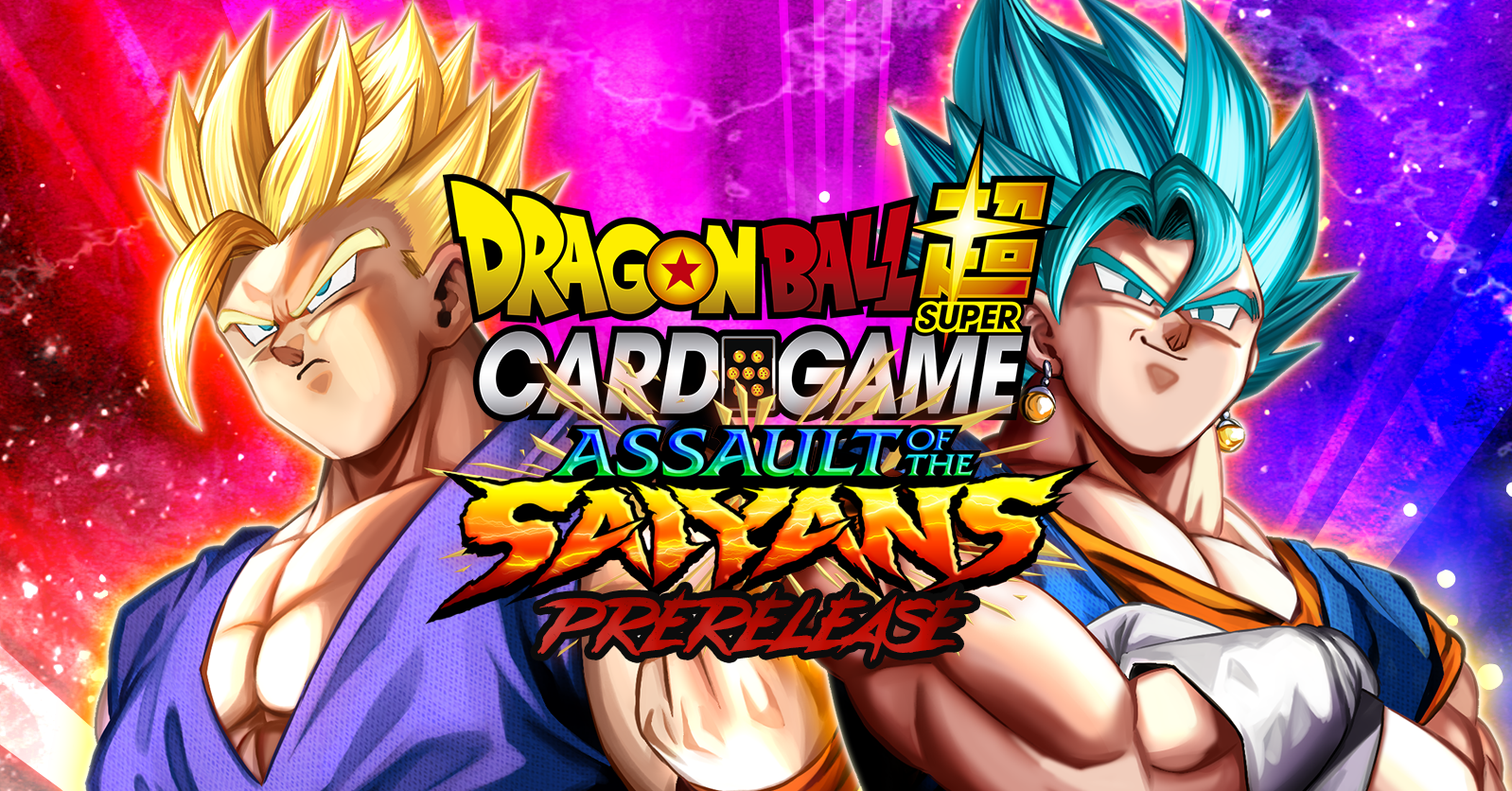 Partecipa al Prerelease e gioca il primo torneo ufficiale con le carte di Assault of the Saiyans presso il tuo Hobby Store di Fiducia!
Ogni partecipante riceverà 6 buste del nuovo set Assault of the Saiyans in italiano con cui costruire un mazzo di almeno 40 carte più una carta Leader!
I partecipanti avranno anche l'opportunità di acquistare il prodotto il giorno del torneo, prima della data di uscita ufficiale del medesimo!
Regole di Costruzione del Mazzo
Ogni partecipante deve costruire un mazzo di almeno 40 carte più una carta Leader. Durante le partite nei tornei Sealed, i costi specifici di carte e/o abilità vengono ignorati: ciò significa che i costi possono essere indipendentemente dai colori delle proprie energie.

Fare riferimento al seguente articolo per ulteriori informazioni cliccando su questo link.
Tipo di Evento:
Prerelease
Formato:
Sealed Pack
Periodo Svolgimento Tornei:
Dal 13 Settembre 2019 al 15 Settembre 2019
Premi:
Ogni partecipante riceverà un Promotion Pack 03.
Un montepremi pari a un Promotion Pack 03 ogni 2 partecipanti verrà suddiviso tra i giocatori del torneo secondo le modalità definite dall'organizzatore.
TOP 2: I migliori 2 giocatori del torneo riceveranno ciascuno uno Speciale Storage Box esclusivo.

Costo Iscrizione Suggerito (Comprende 6 buste per costruire il mazzo): € 30,00
Elenco Organizzatori:
| Data | Formato | Sede Torneo | Indirizzo | Regione | | | |
| --- | --- | --- | --- | --- | --- | --- | --- |
| 13/09/2019 | Limited Sealed Pack | Turino Andrea Tabaccheria Giochi Di Fumo | Viale Morozzo San Michele 22/a 15033 Casale Monferrato (al) | Piemonte | | Contatta | |
| 13/09/2019 | Limited Sealed Pack | N.e.r.d.s | Via M. Ruta 119 81100 Caserta (ce) | Campania | | Contatta | |
| 13/09/2019 | Limited Sealed Pack | Relax | Via Radic Nord 31 42014 Castellarano (re) | Emilia Romagna | | Contatta | |
| 13/09/2019 | Limited Sealed Pack | Games & Comics Shop | Via Etnea, 692/b 95128 Catania (ct) | Sicilia | | Contatta | |
| 13/09/2019 | Limited Sealed Pack | Manarush | Via Rasi E Spinelli 232 47521 Cesena (fc) | Emilia Romagna | | Contatta | |
| 13/09/2019 | Limited Sealed Pack | Emporio 45 Model | Via Borgo Di Sotto 3 06012 Città Di Castello (pg) | Umbria | | Contatta | |
| 13/09/2019 | Limited Sealed Pack | The Lost Dungeon, Comics&games | Via Leonardo Da Vinci Presso Galleria Commerciale Vinci 67100 L'aquila (aq) | Abruzzo | | Contatta | |
| 13/09/2019 | Limited Sealed Pack | Af Games | Via Marco Antonio Colonna 2 20149 Milano (mi) | Lombardia | | Contatta | |
| 13/09/2019 | Limited Sealed Pack | Magiczone Mortara | Via Albonese 530 27036 Mortara (pv) | Lombardia | | Contatta | |
| 13/09/2019 | Limited Sealed Pack | Games Academy Palermo | Via Cozzo, 22a 90139 Palermo (pa) | Sicilia | | Contatta | |
| 13/09/2019 | Limited Sealed Pack | Cardgameshop | Via Grazia Deledda 2 65012 Cepagatti (pe) | Abruzzo | | Contatta | |
| 13/09/2019 | Limited Sealed Pack | Cards Capital City | Via Papa Giovanni Xxiii, 4 20838 Renate (mb) | Lombardia | | Contatta | |
| 13/09/2019 | Limited Sealed Pack | Pandorum M.e. | Via Di Santa Sofia, 2a 00152 Roma (rm) | Lazio | | Contatta | |
| 13/09/2019 | Limited Sealed Pack | Fireball | Via Delle Baleari 215 00121 Roma (rm) | Lazio | | Contatta | |
| 13/09/2019 | Limited Sealed Pack | Multiverse Of Games | Via Don Luigi Viganò, 102b 20811 Cesano Maderno (mb) | Lombardia | | Contatta | |
| 13/09/2019 | Limited Sealed Pack | Games Academy Verona | Via A.oriani, 2/c 37136 Verona (vr) | Veneto | | Contatta | |
| 13/09/2019 | Limited Sealed Pack | Gamestime Villafranca Di Verona | Via Nino Bixio 192 37069 Villafranca Di Verona (vr) | Veneto | | Contatta | |
| 14/09/2019 | Limited Sealed Pack | Games Academy Aosta | Via Bonifacio Festaz 79 11100 Aosta (ao) | Valle D'aosta | | Contatta | |
| 14/09/2019 | Limited Sealed Pack | Lppcollecting | Via Belvedere, 23 20862 Arcore (mb) | Lombardia | | Contatta | |
| 14/09/2019 | Limited Sealed Pack | L'antro Della Sibilla | Via Salerno 30 84091 Battipaglia (sa) | Campania | | Contatta | |
| 14/09/2019 | Limited Sealed Pack | Altrove Cagliari | Via Einaudi, 42 09127 Cagliari (ca) | Sardegna | | Contatta | |
| 14/09/2019 | Limited Sealed Pack | Collezionami Shop Forlì | Via Campo Di Marte, 198 47121 Forlì (fc) | Emilia Romagna | | Contatta | |
| 14/09/2019 | Limited Sealed Pack | Am Giochi E Fumetti | Via Antonio Bardelli, 4 33035 Martignacco (ud) | Friuli Venezia Giulia | | Contatta | |
| 14/09/2019 | Limited Sealed Pack | Pianeta Hobby | Via Leoncavallo, 15 20131 Milano (mi) | Lombardia | | Contatta | |
| 14/09/2019 | Limited Sealed Pack | Camelot Fantasy Games | Via Cluverio N17 90138 Palermo (pa) | Sicilia | | Contatta | |
| 14/09/2019 | Limited Sealed Pack | Arcanum Comics & Games | Via Fiume 31 80038 Pomigliano D'arco (na) | Campania | | Contatta | |
| 14/09/2019 | Limited Sealed Pack | Orion | Via Flaminia Conca 51 47923 Rimini (rn) | Emilia Romagna | | Contatta | |
| 14/09/2019 | Limited Sealed Pack | Games Academy Roma | Via Cairano 8 00177 Roma (rm) | Lazio | | Contatta | |
| 14/09/2019 | Limited Sealed Pack | Maremoto | Via Duilio, 5 00192 Roma (rm) | Lazio | | Contatta | |
| 14/09/2019 | Limited Sealed Pack | Eron's Bazaar | Via Della Cittadella N 13 64100 Teramo (te) | Abruzzo | | Contatta | |
| 14/09/2019 | Limited Sealed Pack | Il Pianeta Dei Saiyan | Via Delle Crociate,39 76125 Trani (bt) | Puglia | | Contatta | |
| 14/09/2019 | Limited Sealed Pack | The King Of Games | Via Aquileia, 15/a 33100 Udine (ud) | Friuli Venezia Giulia | | Contatta | |
| 15/09/2019 | Limited Sealed Pack | Swamp Store Game People | Via Dei Lauri 25/b 04011 Aprilia (lt) | Lazio | | Contatta | |
| 15/09/2019 | Limited Sealed Pack | La Tana Del Drago | Via De Rossi, 188 70122 Bari (ba) | Puglia | | Contatta | |
| 15/09/2019 | Limited Sealed Pack | L'edicola Di Santolo Contaldo | Via Cosenza 64 80053 Castellammare Di Stabia (na) | Campania | | Contatta | |
| 15/09/2019 | Limited Sealed Pack | Kazuma Srl | Via Finali 52 47521 Cesena (fc) | Emilia Romagna | | Contatta | |
| 15/09/2019 | Limited Sealed Pack | F.t.s Games | Via A. Gramsci, 179 16126 Genova (ge) | Liguria | | Contatta | |
| 15/09/2019 | Limited Sealed Pack | Tony Toys | Via Leonardo Bistolfi 31 A/b 10040 La Loggia (to) | Piemonte | | Contatta | |
| 15/09/2019 | Limited Sealed Pack | Imperium | Via Priverno 27 04100 Latina (lt) | Lazio | | Contatta | |
| 15/09/2019 | Limited Sealed Pack | Games Academy Legnano | Vicolo Corridoni 6 20025 Legnano (mi) | Lombardia | | Contatta | |
| 15/09/2019 | Limited Sealed Pack | L'approdo Del Re | Via Parini 7 98121 Messina (me) | Sicilia | | Contatta | |
| 15/09/2019 | Limited Sealed Pack | Wonderland - Pavia | Via Pietro Nenni 72/a 27100 Pavia (pv) | Lombardia | | Contatta | |
| 15/09/2019 | Limited Sealed Pack | Dungeon Di Anniballi Simon | Via Sabbatini N°6 61121 Pesaro (pu) | Marche | | Contatta | |
| 15/09/2019 | Limited Sealed Pack | Gg & Beer | Via Paolo Buzzi, 28 00143 Roma (rm) | Lazio | | Contatta | |