DRAGON BALL SUPER CARD GAME 5th Anniversary Set
Prodotti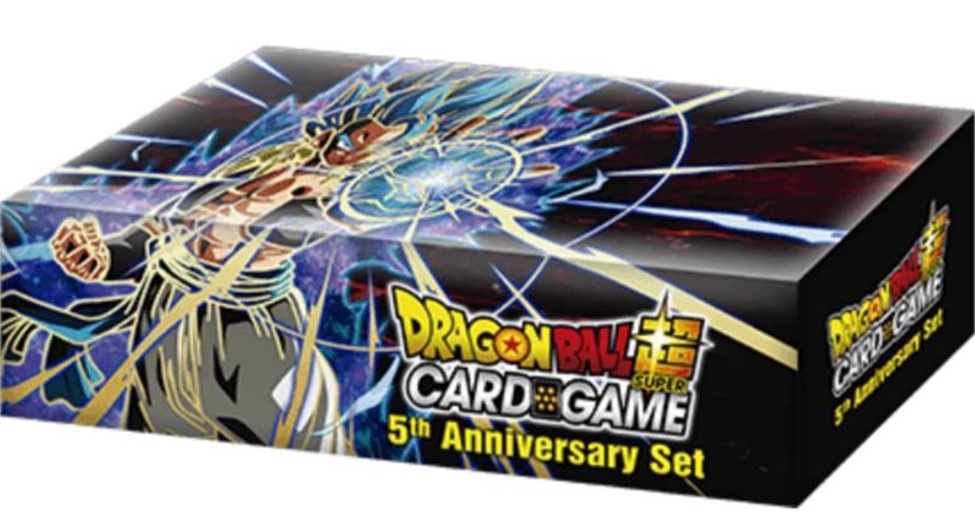 E' in arrivo il set del 5° anniversario di Dragon Ball Super Card Game! Quest'anno sono state apportate alcune migliorie rispetto al set dell'anniversario dello scorso anno. Questa volta, è stato ridotto il numero di carte ristampate (solo 3 delle SCR più popolari con nuove illustrazioni), mentre le nuove carte ammontano a 18 e potranno essere utilizzate per una grande varietà di mazzi! Questo prodotto è incentrato su nuove incredibili carte che rafforzeranno i mazzi di qualsiasi colore e tipologia.
Come al solito, lo storage box è impreziosito da una fantastica illustrazione con timbri dorati su ogni lato.
Release date
October 2022
Contents
1) Anniversary Card Set× 1set
18 new cards ×2cards=36 cards
*silver cards / 18 types

2) 5th Anniversary Booster Pack × 2 packs
12 cards per pack × 2 packs=24 cards
*silver cards / 18 types to collect from!

3) SCR Pack × 1 pack
1 card per pack × 1 =1 card
*holo+goldstamp cards (Alt Art cards) /
3 types to collect from!

4) Revision Set
35 Errata cards ×1 =35 cards
*normal cards / 35 types

5) Set of 66 Sleeves
1 of 4 types included randomly.

6) 1 Storage box
Gold Stamp (1 type)
Alla prossima!
Distribuzione per l'Italia:


Sito: www.gametrade.it
Email: info@gametrade.it